15 Mala Shabu Restaurants in Bangkok We'd Dine At!

(Photo Credit: Freepik)
Numb your tongues with these Mala Shabu restaurants in Bangkok!
(Photo Credit: Gourmet & Cuisine)
This Singaporean establishment now has outlets in Thailand. You can choose from six different types of soups, including:
Mala soup
Collagen soup
Mushroom soup
Tomato soup
Coconut soup
Soaked chicken soup
Location: 1st floor of Somerset Rama 9 Hotel, 32 Ratchadaphisek Road, Huai Khwang, Bangkok 10320
Open: 11 am. - 11 pm.
Tel: 098-538-7838
(Photo Credit: Angpao Mala Hotpot)
This joint serves up authentic Sichuan-style Mala hotpot. There are 5 flavours of soup to choose from, with a maximum of 3 compartments per 1 pot.
Mala soup, so spicy but can sip
Collagen pork bone soup, it's notable for its mellow fragrance because it simmers for up to 9 hours
Tomato soup, good sweet and sour
Tom Yum Kung soup, full-flavoured of sharp spicy
Sukiyaki soup, good smelling and intense
You can also choose from a diverse menu of pork, beef, and seafood. The sauce can be cooked to your liking. And there are also desserts, appetisers, and great drinks!
Location: 100, 102 Banthat Thong Road, Wang Mai, Pathum Wan, Bangkok 10330 (Stadium One)
Open: 12 pm. - 11.30 pm.
Tel: 063-885-3880
(Photo Credit: หลิวอี้โส่ว หม้อไฟ / หมีพุงกลม / Raem Chanraem)
This newly-opened Mala hotpot restaurant has more than 100 popular menu items on offer, including offal, meat and seafood dishes, and much more besides. There are 5 flavours of soup to choose from, including original Mala , cow oil Mala, mushroom, and tomato soup.
Location: Rama 9 Soi 57, Suan Luang, Bangkok 10250 (Beside Rama 9 Night Market)
Open: 10 am. -12 am.
Tel: 065-556-8666
(Photo Credit: Warng Warng Mala Shabu)
This Taiwanese style shabu presents its diners with a choice of three different soup flavours, including mala, Ginseng soup with 8 immortal herbs, and Taiwanese tomato soup.
Location:
Sukhumvit 33 branch: 10 16 Soi Sukhumvit 33, Khlong Tan Nuea, Wattana, Bangkok 10110 / Tel: 096-301-9699
Silom Complex branch: 191 Silom Road, Silom, Bang Rak, Bangkok, 10500 / Tel: 065-403-6888
(Photo Credit: Mongkok Sukiyaki)
This Hong Kong sukiyaki buffet is very popular. It has a noteworthy instant noodle zone, which serves up both Thai and Korean options, and you can choose whatever you want.
Now there are 6 branches in total.
Ekkamai: Tel. 02-391-8688 / 065-986-5668
Mercury Ville Chidlom: Tel. 02-252-9989
The Mall Ngamwongwan (5th floor): Tel. 02-121-4735
Sena Fest Charoennakorn (2nd floor): Tel. 02-002-5698
Future Park Rangsit (B Floor): Tel. 02-150-9287
M9 Square @Ratchada Honda: Tel. 063-871-7982
(Photo Credit: เจี่ยง ชาบู)
Their Mala Suki recipe is from Beijing, and served in a hand-painted Cloisonne porcelain pot, which also originates from the same source. The restaurant allows diners to choose from more than 10 types of sauces to choose from, which are divided into 7 types of mala sauces (spicy seasoning powder, non-spicy seasoning powder, paprika powder, cumin powder, spicy sauce, BBQ sauce. and seafood sauce) and 3 types of shabu sauce (Southern Chinese sauce, sesame sauce and suki sauce), as well as two types of soup: Mala soup and Chinese herbal stewed chicken.
Location: Kanchanaphisek Road, Sala Thammasop, Thawi Wattana, Bangkok 10170
Open: 10.30 am. - 9 pm.
Tel: 094-991-6617
(Photo Credit: CQK MALA Hotpot)
Choose from four different types of soup. This includes Mala soup, pork bone soup, tomato soup, and pumpkin soup. Diners have commented on its spice level, but we suggest you only pass judgement once you try it for yourself.
And another great thing here is the refillable sauce, which can be customised to your liking.
Location:
The Crystal Ekkamai-Ram Inthra branch, Veranda Building, 2nd floor
215 Pradit Manutham Road, Lat Phrao, Bangkok 10230
Tel: 097-750-6666
16 2 Thriam Ruammit Road, Huai Khwang, Bangkok 10310
Tel: 099-380-7777
Open: 11 am. - 3 am
(Photo Credit: อาม่งหม่าล่า หม้อไฟ)
Thai Mala hotpot restaurant in Yaowarat area that should not be missed! But it is recommended to call to make a reservation first because the number of tables may be a little less. But let us tell you that it's definitely worth the wait.
There are 4 soups to choose from:
Mala soup: available in both beef and vegetarian mushroom flavors with choices of spiciness levels
Clear soup: mellow taste from chicken bone stew with Chinese herbal medicine
Tomato soup (homemade): sweet and sour taste and there's tomato pulp in the soup too
Black Soup with Dried Fish: Very rich and mellow, with a slight sweetness.
The sauces are nice as well. You can mix it yourself or you can mix it according to the shop's recipe.
Location: 332 Soi Yaowarat 11, Samphanthawong, Bangkok 10100
Open: 11 am. - 10.30 pm.
Tel: 064-829-6166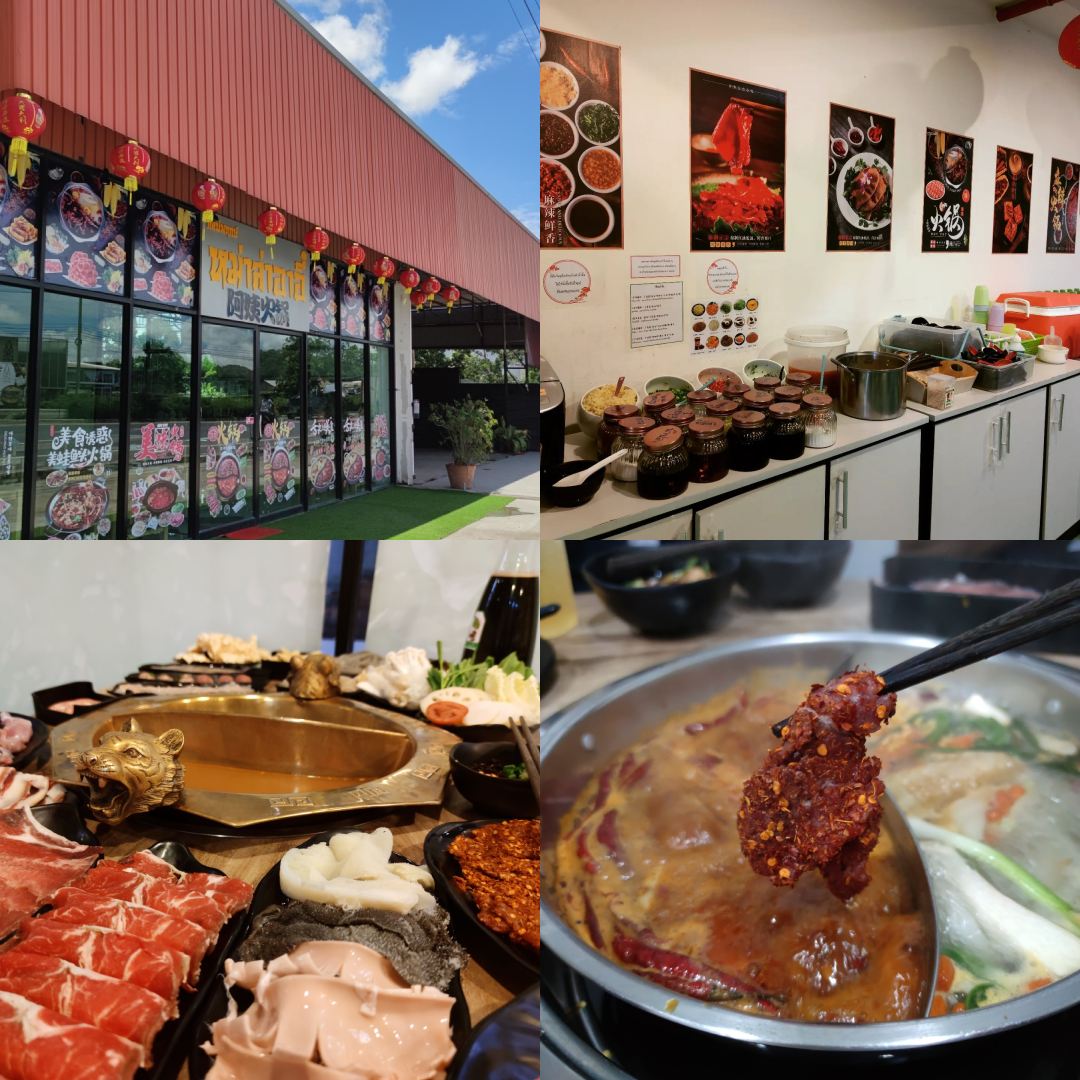 (Photo Credit: หม่าล่าอาอี๋)
Sichuan Mala Hot Pot in Banthat Thong area which uses spices imported directly from China. There are both a la carte and buffet options, as well as a variety of soups to choose, which includes Mala, clear, mushroom, pork bone and tomato soup.
Location: 719 Mint Tower, Wang Mai, Pathum Wan, Bangkok 10330
Open: 11 am. - 10 pm.
Tel: 097-193-7965
(Photo Credit: วันนี้ลา)
This is a Mala buffet with a difference - yes, it is halal. Choose from its expansive menu of dim sum, noodles, roasted duck, chicken, beef, seafood dishes. How expansive is their menu? Why not try 90 different options on for size? There'd be something for everyone in the family!
Location:
Rama 9 - Ramkhamhaeng branch
1719 Ramkhamhaeng Road, Hua Mark, Bang Kapi, Bangkok 10240
Tel: 097-012-5120
Ram Inthra - Phrayasuren branch
277 Bang Chan, Khlong Samwa, Bangkok 10510
Tel: 065-838-9931
(Photo Credit: บ้านสวน อบอวลรัก)
This establishment plays on the concept of having Shabu in the garden - think "Picking mushrooms and vegetables then Shovelling shabu." You can be assured that the vegetables you eat are safe, non-toxic, and can be chosen by yourself. Plus, there are 14 types of broth to choose from!
The atmosphere inside the shop is very good, there are garden house zones, waterfront courtyard zones, garden facade zones and glass room zones. You can choose which atmosphere you want to eat in. And most importantly, Pet Friendly, you can bring your pet as well.
Location: 75 Pracha Uthit 14, Bangpakok, Rat Burana, Bangkok 10140
Open: Mon-Fri at 11 am. - 10 pm. / Sat-Sun at 10 am. - 10 am.
Tel: 061-565-2251
(Photo Credit: ชาบู สแควร์)
Taiwanese shabu style with unlimited Häagen-Dazs ice cream! As for the soup, there are 8 types to choose from:
Dashi shabu soup
Sukiyaki soup
Mala soup
Tom Yum soup
Stewed rib soup
Pho soup
Spicy soup

Kimchi soup
Order your mains from the staff, though you'd have to help yourself for the other menu items.
Location: 341 For You Park, Bangna Nuea, Bangna, Bangkok 10260
Open: Sun-Thu at 11.30 am. - 9.30 pm. / Fri-Sat at 11.30 am. - 10 pm.
Tel: 065-584-6263
(Photo Credit: รวมโปร)
Is there anything better than pairing mala skewers with hotpot? Starting at just 15 baht per stick, you'd also have a wide array of drinks to choose from!
Location: 1221/7 Sukhumvit Road, Khlong Tan Nuea. Wattana, Bangkok 10110
Open: 4 pm. - 12 am.
Tel: 097-130-6425
(Photo Credit: ต้าถังหม้อไฟ)
If you like dining with an atmosphere, this is the place for you. This establishment pairs Chinese-style hotpot, with premium ingredients, with uniquely decorated interiors.
The first floor is in a modern Chinese style, with the second and third being in brothel and palace designs accordingly.
Location: Siam Square Soi 3, Wang Mai, Pathum Wan, Bangkok 10330
Open: 11 am. - 11 pm.
Tel: 063-898-8998
(Photo Credit: Tenten ชาบู 4 สี หมีออนเซน)
This restaurant sure has an eclectic name. Their menu has been built on a 4-compartment shabu pot, which can serve up to four different types of soup. The bear itself is a gimmick. It contains a frozen ball of liquid which gradually releases its flavours into the pot when exposed to the heat.
Location: Siam Square 5th Floor, 388 Rama 1 Road, Pathum Wan, Bangkok 10330
Open: 11 am. - 10 pm.
Tel: 062-479-1623
Please comment below if you have any other recommendations!