"Highway Traffic" Application for All Your Route Planning Needs
We should always plan our routes before we go for a drive. The Department of Highways has released a new app to help you out!
Driving always requires some form of route planning but it isn't always easy and even then, route conditions can be unknown or unpredictable. That's where this new app comes in!
Today, Motorist introduces Thailand Highway Traffic, an app that every car owner should have on their mobile phone due to its many useful features. It can be downloaded free on both iOS and Android systems.
Highway Traffic is an app that helps report traffic conditions on highways in Thailand. You can choose to view the route in both map format or via traffic cameras installed on highway roads.
What are its features?
Its extensive coverage is a blessing for drivers, ensuring you will always have access wherever you intend to travel to in Thailand.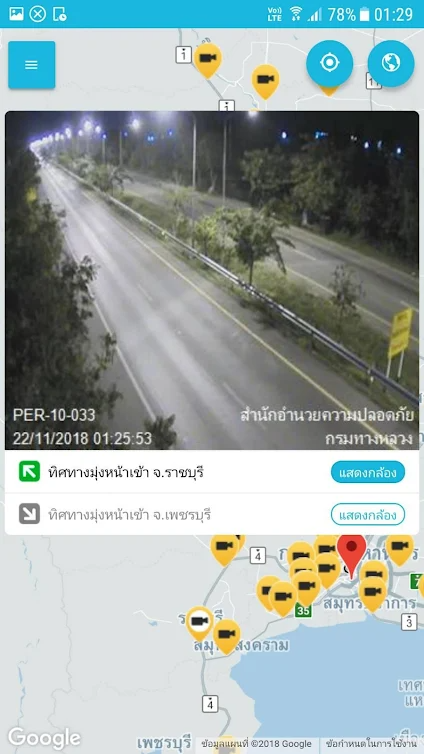 Over 100 highway traffic cameras (CCTVs) allows you to check traffic conditions before driving or while traveling so that you know in advance whether the route you are taking is congested or not, helping you plan your trip better.
Shows vehicle speed (km/h) and vehicle flow (veh/h) data, helping you calculate travel time.
Shows traffic congestion levels by color. It helps to visualize clearly which route should be avoided because of the heavy traffic and which route can be passed through seamlessly because of the lower density of traffic.
Map showing restroom and drinking water service points. It helps facilitate those who have to travel a lot because not every route has toilets along the way. If you have the Highway Traffic app on hand, you won't have to worry about going to the bathroom or getting thirsty along the way.
The map shows the travel time. It is a feature that can be used every day and anytime. Because right now we can't really predict how long it takes to travel to a particular place. Because in some parts there is a lot of traffic, but in some parts, the road is completely empty.
The information displayed on the Highway Traffic app is from the Bureau of Safety, Department of Highways directly. So, don't be afraid that it's false information, it's a proper source. Its only flaw is that some features may not be displayed in real-time but overall, it's a great app.
But now if you want to sell a used car , you can go to sell at the Motorist web page first. Easy to use. Sell quickly. No obligation. Get an appraisal within 24 hours, the best price guarantee!
Claim your free car valuation today!
Read More: 30 Free Parking Spots You Can Find in Bangkok (2022 Edition)
---
Looking for a car appraisal? You can contact us for a free car valuation within 24 hours…