mReview: 2021 Mitsubishi Space Star – Back To Basics
One of the many perks of our job is that we get access to the latest, greatest and coolest cars on sale today.
We are pampered with leather, the latest gizmos and gadgets, and powertrains that are refined but potent. All these characteristics however do come at a cost.
In fact, even your so-called 'economy cars' have grown - both in size and in their price tags.
Going Back To Basics
What Mitsubishi has done with its Space Star though, is proof that a well-built and good-looking car does not have to come at a huge cost.
As a disclaimer, there is evidence of cost-cutting throughout the car, the most obvious being the matte black vinyl used to simulate window trim on the doors.
But you still get this sense that they are keen on making an excellent product despite the financial hurdle.
On The Outside
This facelift replaces the cutesy front end of its predecessor with a sporty and sharply contoured front fascia. The all-new Dynamic Shield front grille takes centre stage and is a clear nod to the more modern and upmarket offerings from the marque.
It is flanked by a pair of new LED Headlamps that have been carefully integrated with the front grille. The rear end has been updated too, with new LED light clusters that have clear lenses.
In keeping with the rest of the facelift, Mitsubishi has fitted a new roof spoiler, which helps to add some definition to the rear of the vehicle. What we are less certain about though, is their stylistic choice for the facelifted rear bumper.
It is more aggressive - there's no denying that. But it does look a touch busy, and we are not a fan of the faux diffuser that so many manufacturers are opting to add to their cars.
Budget cars do not have to come with steelies and plastic hubcaps. The Space Star facelift brings with it a set of newly-designed 15-inch alloy wheels. These are two-tone and diamond cuts, which helps to 'accentuate its modern and athletic profile'.
We can't deny that though - these rims fit the car really nicely!
In The Cabin
Expectedly, you do not get any soft-touch materials or any other fancy materials here.
The Space Star liberally employs hard plastics throughout the cabin. Admittedly, whilst well screwed together, the interior does feel a touch low-rent, though what it loses in luxury, we are sure it makes up for in durability.
At the very least, Mitsubishi did not opt to use the same type of plastic throughout the cabin. The centre stack is made of glossy black plastic, and the trim pieces around the window switches have a faux carbon fibre effect finish.
Whilst subtle, these help to break up the monotony of a budget car's cabin.
Where the dosh has been spent on the inside though, is on the materials used in the common touchpoints. Credit to Mitsubishi here - wrapping the steering wheel and gear knob in leather does drastically improve the user experience.
The interior is then rounded off through the use of contrast materials on the seats, with leather and patterned textiles chosen to trim the seats.
These elements really help to visually lift the cabin, and make it a much more pleasant place to sit in.
The Drive
There's a modicum of sportiness with the way the chassis has been set up. Rudimentary suspension and brakes aside, you still get a whiff of go-kart-like feedback through the electric power steering.
But that's really about it. The suspension is too soft, so any precision in the steering and chassis would have been disguised by the willowy-ness of its ride. It also doesn't help that its powerplant isn't what you'd call 'urgent'.
Under the bonnet of the Space Star resides a 1.2 litre, three-cylinder engine, that outputs a whopping 79bhp. Stomp on the throttle and the engine seems more adept at converting petrol into noise, rather than into actual forward momentum.
Engine and CVT noise aside, there is a significant intrusion of road and wind noise into the cabin. In a heavy downpour and with the engine in the upper echelons of its rev range, we actually had to raise our voices significantly just to hold a conversation.
The CVT fitted to the car certainly does it no favours. It is unrefined, sending jolts through the car when you shift it into 'Drive' or 'Reverse' from 'Park' or 'Neutral'. It is also indecisive and unresponsive.
Thankfully though, this is where the lack of power is actually a pro – a more powerful motor will exaggerate this to a greater effect, for a less comfortable ride.
Hot Hatch, It Is Not
As a city runabout, the Space Star works best if you are easy on the throttle. Doing this will minimise the drone from the powerplant for a less headache-inducing journey.
Calm driving will also reward you with a more comfortable ride, as its soft springs, which aren't very good for sporty driving, are actually very capable of soaking up bumps on the road.
Even with the occasional abuse of the loud pedal, throughout our testing, we returned an average of about 23km/l - impressive!
That Note-Worthy Equipmen
Whilst impressive for a budget car, we can't help but feel some of the equipment has been included just so Mitsubishi could advertise its features on its brochure to help shift units.
To be clear, auto-folding mirrors and cruise control are nice features, but there has to be a better way to allocate funds in a low-end car such as this?
We'd happily trade in the half-hearted cruise control system, which doesn't seem very capable of maintaining a set speed, and the auto-folding mirrors, for some extra sound insulation.
Thankfully, and rather surprisingly actually, the Space Star's stereo system is actually pretty competent. There's certainly enough auditory oomph, which we'd recommend you capitalise on to drown out the racket from the drivetrain.
The Overall Experience
We still believe that a few simple tweaks would drastically improve this product though. A manual gearbox and stiffer springs would be a good start.
For a more involved and thorough improvement of the product, Mitsubishi can perhaps offer an option for more power, with a mix of turbocharged and/or bigger capacity options. As the car is already one of the most aerodynamic in its class, wouldn't an EV powertrain, borrowed from a Renault Zoe, do it wonders?
The extra power and torque on tap will make the car more refined and be more comfortable over longer journeys!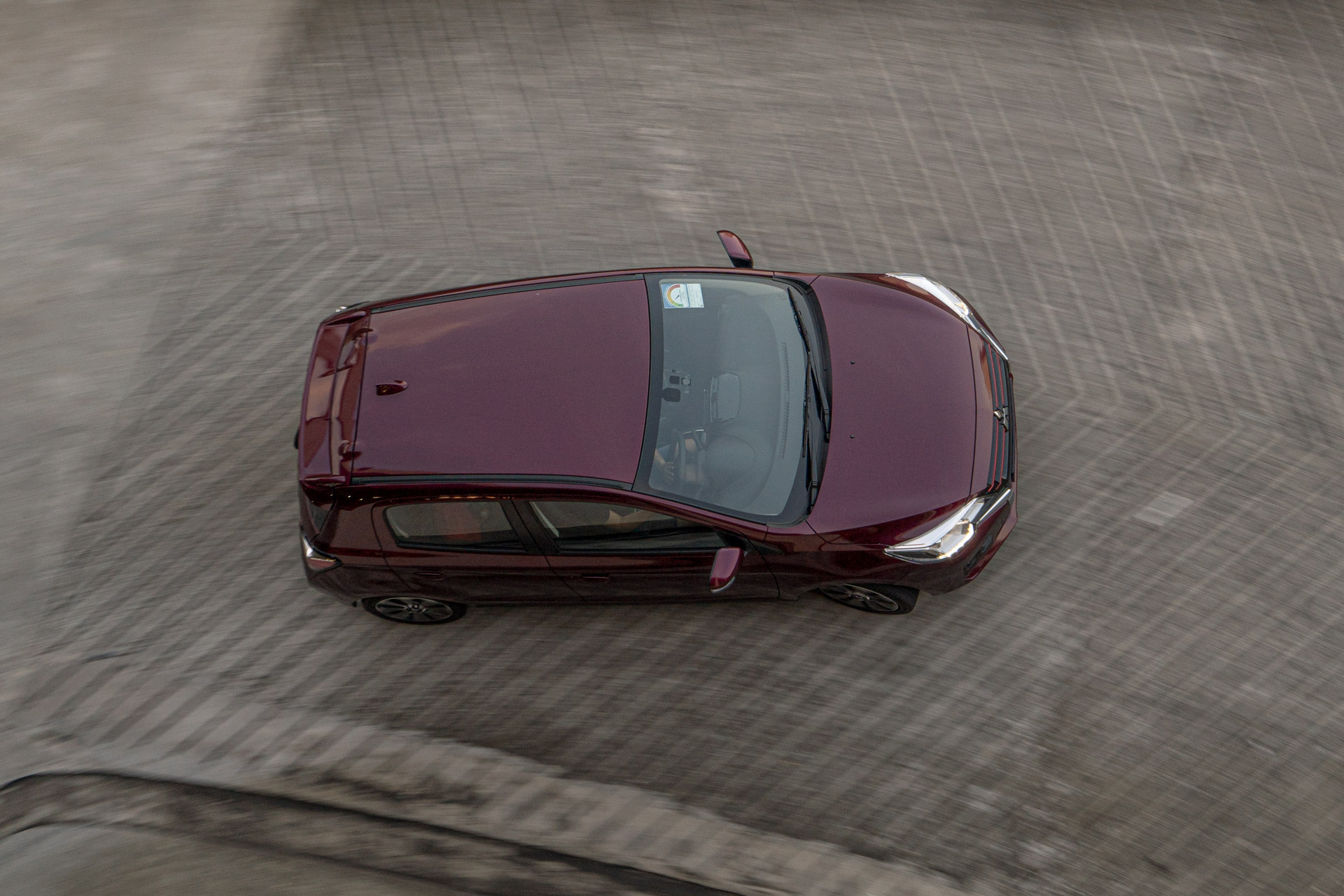 As it is though, it's hard to sum up the Space Star experience. The engine protests when you ask for more power. The suspension is good at soaking up bumps, but its lack of stiffness makes the car uncomfortable through corners and can induce bouts of motion sickness in those genetically predisposed to it.
Use it as it was intended though, and you'd find a capable city car, that is dinky, good looking, well-equipped and easy to manoeuvre!
Specs
Price:


S$79,999

Performance:

Engine: 1.2 litre Inline 3 Cylinder

Power: 79bhp

Torque: 106Nm at 4,000rpm

Efficiency: 21.2km/l

0-100km/h: 13.8s

Top Speed: 167km/h

Brakes (Front): Ventilated Disc

Brakes (Rear): Drum

Measurements:
Wheelbase: 2,405mm
Dimensions: (LxWxH): 3,845mm x 1,665mm x 1,505mm
Boot Capacity: 209 Litres
Features:

Apple CarPlay/Android Auto

Keyless Entry

Auto-Folding Mirrors

Cruise Control
Prices are accurate at the time of writing.
Photo Credit: ACube Creative (@weareacube)
Claim your free car valuation today!
Read more: How To Get the Best Price For Your Used Vehicle
---
Looking for a car valuation? You can contact us to receive an obligation-free car valuation within 24 hours.